ISRO's mission, the first carried out by the space agency this year, comes four months after it failed to launch IRNSS-1H onboard PSLV-39.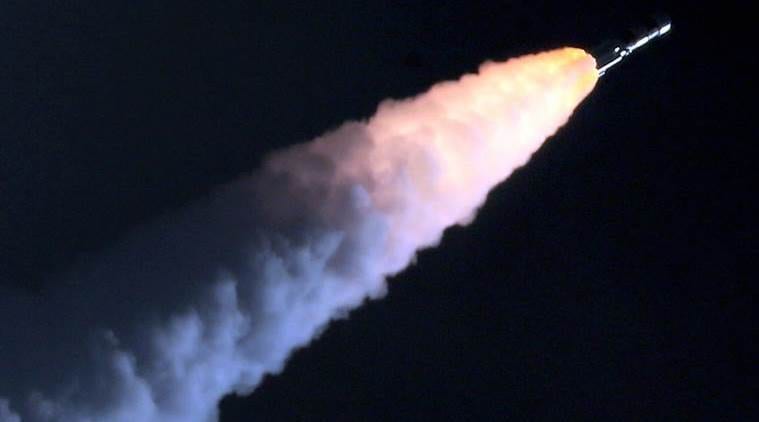 PSLV-C40, carrying Cartosat series along with 30 other satellites, lifts off from first launch pad at Sriharikota, on Friday. (PTI Photo/ISRO)

observation satellite Cartosat-2 series and 29 other satellites, from the Satish Dhawan Space Centre in Sriharikota, Andhra Pradesh. The mission, the first carried out by the space agency this year, comes four months after it failed to launch IRNSS-1H onboard PSLV-39.



Announcing the success of the launch, outgoing ISRO chief A S Kiran Kumar dedicated it as a new year's gift to the country. This is his final mission as chief of the agency.


Prime Minister 
Narendra Modi
 congratulated the scientists at ISRO for the success, and added that it signifies the bright future for India's space programme. "This success in the New Year will bring benefits of the country's rapid strides in space technology to our citizens, farmers, fishermen etc. The launch of the 100th satellite by @isro signifies both its glorious achievements, and also the bright future of India's space programme," Modi tweeted. "Benefits of India's success are available to our partners! Out of the 31 Satellites, 28 belonging to 6 other countries are carried by today's launch," he added.

The co-passengers on the PSLV-C40 comprised one micro and nano satellite each from India and three micro and 25 nanosatellites from six countries — Canada, Finland, France, Korea, UK and US.


President Ram Nath Kovind hailed the team of "exceptional scientists" at ISRO, calling the launch a moment of pride for every Indian and a milestone for the country. Meanwhile, Vice-President 
Venkaiah Naidu
 took to Twitter to congratulate the ISRO team as well.

ISRO chief designate K Sivan, who will take over from Kumar today, credited ISRO's scientists across the country for their innovation in making the launch of PSLV-C40 a success. "This success is a green flag for our other missions in 2018. I am sure that the ISRO community will rise to the occassion and meet expectations," he said. Sivan, the brain behind India's PSLV project, has worked on its since 1982.


A string of reactions and congratulatory messages came from political leaders as well. BJP president Amit Shah said the launch takes India "far ahead in space research and technology," while Finance Minister 
Arun Jaitley
 said ISRO has achieved a great feat and made the country proud. Meanwhile, Home Minister 
Rajnath Singh
 said, "The scientists at ISRO have made the nation proud with their successes on several occasions. They have done it again by hitting a century," he tweeted.

Congress president Rahul Gandhi congratulated ISRO as well, saying its hard work and dedication has made India the pioneer of space program.



The weather observation Cartosat-2 series satellite will provide high-resolution scene specific spot imageries. The images will be used for cartographic applications, urban and rural applications, coastal land use and regulation, road network monitoring, water distribution, creation of land use maps among other things.